IGI 2 Covert Strike Single-player Demo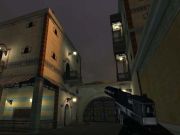 IGI 2 Covert Strike Single-player Demo
IGI 2 Covert Strike is a famous game based on stealth first person shooter. It was originally released by Codemasters in 2003 and was developed by Innerloop Studios.
The game is completely based on "action and mission". Ex-SAS soldier Jones has arrived to this platform to fight for his team. He needs to play very tactfully in this IGI Project. He needs to be really quick in this 19 mission campaign; otherwise he will be trapped in this place. Remember, the game is completely based on the situation of 'do or die'. The powerful weapons will be prearranged for you like pistol, guns, sniper, sub-machine guns, etc., which will help you to survive in this game till the end.
You are a hero of your IGI team and you just need to show your capabilities and powerful solo operational put in profound into opponent territory against devastating chances.
Publisher: Codemasters
Operating systems: Windows Me, Windows 98, Windows 2000, Windows XP
Additional requirements: Windows 98/Me/2000/XP, DirectX 8.1