Icy Tower 1.5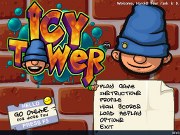 Icy Tower 1.5
Icy Tower 1.5 is a sequel of Icy Tower. This is a popular freeware computer game, which was originally developed by Free Lunch Design in Swedish.
Icy Tower 1.5 is a simple game of climbing, though it is not. In the endless tower, you need to climb on this icy platform in such a way that you score as many good as points you can. It's sound a bit easy, but a game mainly becomes difficult because of its slippery platform. Jumping on height and balancing yourself on this plate is not that easy.
There are lots of new improvements to the game. Firstly, you can add as many profiles as you required. Secondly, a new character is added to the game, named Jungle Jane. The graphics and sound effects are way more impressive. Try out playing this game by downloading, you'll feel worth it!!
Publisher: Free Lunch Design
Version: 1.5
Operating systems: Windows 7, Windows Me, Windows 98, Windows 2000, Windows Vista, Windows XP