I SPY Spooky Mansion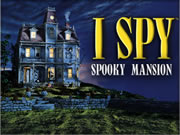 I SPY Spooky Mansion
Discover a spooky but fun! collection of intriguing picture riddles and games inside a dark and mysterious house.
Locked inside, it's up to you to reveal hundreds of hidden objects and thrilling secrets as you uncover three different and surprising ways out. Decode a puzzling message, make your own ghosts, unveil a secret room and more!
Kids of all ages will enjoy endless fun as they learn important skills like problem solving, reading, and vocabulary. Inside a spooky mansion, you can explore ten rooms filled with riddles and games. Every time you solve a riddle, you'll earn a piece of the Secret Message Puzzle. Solve the puzzle and uncover a surprise! There are multiple levels to each game and 30 backgrounds. More than 100 riddles keep the game play exciting and challenging.
License: Trial
Language: English
OS: Win98SE, Me, 2000, XP, 2003