Highway Pursuit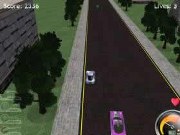 Highway Pursuit
by Adam Dawes
3D racing + shooting enemy agents
Highway Pursuit puts you in control of a powerful sports car in a world filled with enemy agents seeking to take control of the road. Your mission is to destroy as many of these enemy agents as possible, without putting any civilian life at risk.
Along the way you will encounter varied terrain and weather conditions, a number of different enemy vehicles intent on your destruction, and also a few helping pointers from your colleague Ashley back at HQ.
Can you make it to the top of the high score table?