Hearts Card Game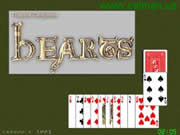 Hearts Card Game
by Athanasios (Thanos) Tsakonas
Classic card game of hearts for 1 person
Did you ever want to play a game of hearts but could not find three other players? Now you have three; anxiously awaiting computer opponents (Ed, Pete and Mia)eagerly waitng for you to play. Hearts Card Game is your traditional game of hearts. (You can also play in two teams, you with a computer player against another team.) There are three different decks available, but unless you are from Europe you will probably stick with the default. Two variations of the game can be played. These are called "Jack of Diamonds" and "Koupes Game"
Game Controls:
To pass cards: Left-Click on each card you want to pass. When three have been selected they are automatically passed. To unselect a card, just Right-Click.
Pressing the R key just before playing your card reorders your hand.
P key pauses/resumes the game.
ESC key exits the game.
The sound effects are good and except for the occasional; entertaining banjo music, Hearts Card Game is just like playing a real game of hearts.