Haunted House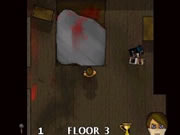 Haunted House
by Danjo (Acoders)
A nice maze game. Collect things in a dark house and avoid monsters
A nice remake of the Haunted House game originally by Atari on the A2600 console.
The game's object is simple.
Collect and assemble 3 pieces of an Urn and escape the house.
To collect items, you must run over them. they will be automatically
picked up. You can only hold one item at a time. so it will swap with whatever you last got.
The Urn will automatically assemble as you get the pieces.
To see where you're going, you use matches - by pressing [ shift ]
To walk around use the [ arrow ] keys
You can turn on lights to the house if you touch a lightswitch.
The items are: Sceptre, Key, Urn pieces (3of)
The Sceptre when carried will make you invisible to the monsters in the house. Be careful, as they can still hurt you if you touch them.
The Key will let you pass through locked door in the house.
The urn once assembled needs to be taken out of the house to win.
You get a score based on time taken to complete this mission, number of matches used,
times you were hit & difficulty level.
Scores can be submitted to an online hiscore board at Acoders.com
Controls:
Arrows = Move
Shift = Light match
Z = Drop item