Gravity Bone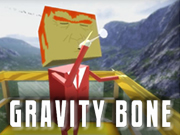 Gravity Bone
Gravity Bone is a stylish first-person action game set in the seedy world of Nuevo Aires.
It's a first-person adventure & action with simple gameplay, but the cohesiveness of its striking visual presentation, soundtrack and effects, and almost entirely incomprehensible story combine to create an atmosphere of peculiar strength.
I found the game through this post over at Green Pixels in between stints of playing another game for review. Launching after a quick download, the game doesn't waste any time getting started, setting your character on a descending elevator before even encountering a menu. The title fades in and out, the doors open, and the action begins. I suppose you could say you play as a spy, though that might not be accurate. The game is almost painfully short, but has enough panache in its two levels to make it somewhat of an indie sleeper hit of the end of 2008. Creator Brendon Chung has an impeccable flair for graphic design, and imbued Gravity Bone with a look that invokes Portal with its utilitarian graphics and deadpan sense of humor.
License: Free
Language: English
OS: Win98, 98SE, XP, Vista