Frozen Bubble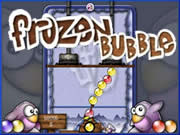 Frozen Bubble
Full-featured, colorful animated penguin eyecandy, 100 levels of 1p game.
plus a level editor, hours and hours of 2p game, 3 professional quality 20-channels musics, 15 stereo sound effects, 7 unique graphical transition effects. This time round, instead of dragons you will have two penguins shooting multicolored balls, try to avoid that they accumulate.
You objective will be to join three or more balls of the same color to make them disappear, and finally clear the full screen. You can play Frozen Bubble in two modes: for one player or two. In both cases, you will be in control of a penguin that shoots bubbles. You will have to guide the shots so that the balls are placed in the positions of your choice. The balls will have different colors and you will have to try to make sure that you join groups of three or more. As you advance in level, the difficulty will increase, the top of the screen will get lower as the levels progress, and you will have to eliminate a lot more balls to make sure that they don't crush the poor little penguins. If this happens the game will be over. If you are tired of complicated games, relax by playing at Frozen Bubble, and join all the balls of the same color.
License: Free
Language: English
OS: Win95, 98, 98SE, Me, 2000, NT, XP, 2003