Forgotten Sake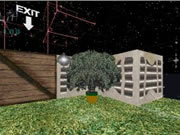 Forgotten Sake
by Craftware
A 3D puzzle game
You are trapped in a world of complex mazes inhabited with hostiles. You are armed with five powerful weapons, can you find you way out and survive the final test, the vicous Zombie Parasite, who is belived to be a human who died in the mazes, but was revived by the hostiles that live there.
In Forgotten Sake, you will need to finish 11 mazes by finding the exit in each of them. Sound easy, even in 3D? Well, in order to find them, you will need to solve puzzles that include pushing, digging, shooting, etc.
You will also encounter hazards such as lava and parasites. Whenever you need help, there will be medikits and ammo for you to gather.
features:
* 3 modes: Software (most compatible), OpenGL and Direct3D
* Stereo 3D modes for red/blue or red/green glasses
* DirectX 3D sounds, you can add your own MP3 music, etc...
controls: (press F6 to toggle between keyboard/mouse)
in keyboard mode:
arrow keys = move
A / D = strafe left / right
W = change weapon
S = change item
Space = jump
Shift = fire
Ctrl = action key (open doors, dig, pull switches, etc)
Page Up / Down = look up / down
in mouse mode:
move mouse = look
left mouse click = fire
right mouse click = jump