Foilmatic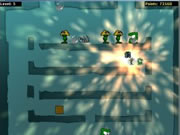 Foilmatic
by Kapser
Based on Bubble Bobble
How to play
Shoot foil to enemies to package them. When foiled, you can smash the enemies or jump on them by keeping the jump button pressed. You will get bonus combo points for smashing a lot of enemies at the same time!
Controls:
Player1
Arrows = Move and jump
Control = Shoot foil
Player2
ASWD = Move and jump
Space = Shoot foil
Gamepads support with automatically work.