Finders Keepers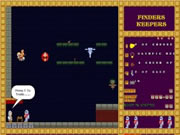 Finders Keepers
by Auld games
A platformer + maze sections and a few RPG elements
A bit strange game whereby you have to try to find your way through mazes. You will find several items which you can sell by a tradesman.
There are a lot of items and I had no idea which ones were usefull and which not. :(
Author's description:
It's a platform game for the most part with several maze sections breaking up the blocks of rooms.
You must help Magic Knight ( who's recently been ousted as a woman ) to collect and trade items you find to the various traders in the game with the ultimate aim of escaping the castle.
However in this version, you have an interesting choice to make when you complete it the normal way.
You must avoid the various energy sapping nasties as you progress through the castle.
Most are easy but some of the ones in the mazes can be tricky buggers to avoid so be quick and look for hidey holes.
Controls:
in title screen:
S = Start game
H = Help
in game:
Arrows = Move
Space = Jump (while moving)
Enter = Pick up
1,2,3,4,5 = Drop item
T = Trade (in front of a tradesman)