FIFA Online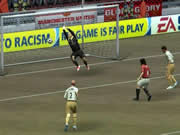 FIFA Online
The game will eventually be powered by micro-transactions elusive items that offer a leg-up in the game but cost real-world money.
FIFA Online is part management simulation and part action game. You can buy and sell players and upgrade your team, and you'll earn experience to spend on things like shinpads to boost defense or whistles to boost attack power.
FIFA Online can be played in single- and multiplayer, and progress will be charted to offer a comparison with friends. For now, EA is banging the FIFA World Cup drum and challenging you to win the famous trophy with your country. Can you? EA SPORTS FIFA Online is a free-to-play massively multiplayer online football game which was announced in early January 2010 and later released on May 26 of that same year. It featured microtransactions which was affirmed by EA that "they would be optional and WOULD NOT have any impact on the specific gameplay". It started out with 30 leagues- (which meant that there would be 500 teams and 15,000 players available in the game) but was later updated to all of the current leagues and teams. FIFA Online started out with only 3 forms of gameplay- League, Versus and 2010 FIFA World Cup South Africa, but then a new mode was later added during FIFA Online's "Big Reset" which was called Tournaments. FIFA Online is currently one of the most successful football MMORPGs on the internet.
License: Free
Language: English
OS: WinXP, Vista, 7