FIFA 09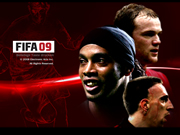 FIFA 09
Among the improvements in the new FIFA are improved responsiveness that allows for quicker release of The Ball.
Another of the edition's biggest changes is a completely revamped collision system, which calculates speed, weight, and power when the players collide, as each player will have their own individual strength and power statistics depending on their body characteristics.
Step onto the pitch and play professional football your way in FIFA 09. Powered by the third generation of the EA SPORTS football engine, FIFA 09 features more than 250 core gameplay additions and enhancements that deliver the most responsive, intelligent and realistic action ever for the series. Enjoy turning defenders with more controlled dribbling and ball control, snapping off precision shots with improved first-time shooting mechanics and firing beautifully timed passes with greater accuracy, placing the ball exactly where you want it. With new player momentum physics the speed and weight of the player determines everything from the distance of a slide tackle and the power of a header to the severity of player collisions and the height of a player's jump. Plus, players now behave according to their physical attributes with larger, stronger players dominating collisions, battles for control of the ball, and position in challenges for two player headers.
License: Demo
Language: English, Spanish, German, French, Czech, Danish, Dutch, Italian, Polish, Portuguese, Swedish
OS: WinXP,Vista, 7