F1 Racing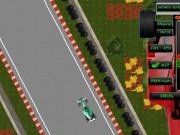 F1 Racing
by MyPlayCity.com
A nice looking F1 Racing game
Authors Description :
F1 Racing - breath-taking motor racing on Formula 1 cars with rivals. Various effects, superb graphics and a lot of interesting routes will catch your attention to this game. You can choose a favorite car and compete on it till the very finish of the race. Don't think it's so easy. Increasing number of strong opponents will stand on your way to the finish. The obstacles will take the time, that's limited. Pick up bonuses and life.
Are you ready for a race? Go!
Join your counterparts from all over the world and beat your best score!
If your score is among the Top 10, you can upload it to our Web site and thousands of other players all over the world will be able to see your highscore!
Are you up for the challenge? Download Free Racing Game - F1 Racing!
A good diffcult racing game. Very realistic sound and a variety of cars to choose move like famous cars :ferrari and mclaren. There are bonus along the way and each level is more diffcult as there are more than one competitors to race with you.