Easter Egg Hunt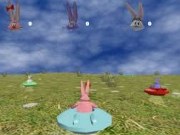 Easter Egg Hunt
by MaRo
A nice little 3D rabbit hovercraft game
This is a nice little rabbit hovercraft game where you try to collect the egges before the other rabbits. There are three different modes - First to collect 10 egges, High Score, and Collect 1 Egg. Moreover, for each mode there are multiple difficulties and three different characters you can choose.
The graphics and effects are very nice and cartoonish. The sound effects also are well done including a various toned engine depending on your speed.
Although a fairly simple game which can get tiring to play rather quickly, everything that's here is solid. The gameplay is smooth, the physics are flawless, the sun effect and surrounding landscape is attractively designed, and the menu also has the same cartoon feel as the rest of the game.
This game was an entry of the Caiman Easter contest 2006
for more info: see forum