DX-Ball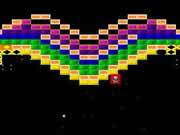 DX-Ball
by Michael P.Welch
Breakout
Game concept:
DX-Ball is a 'breakout' game based on the popular Amiga game Megaball
by Ed and Al Mackey. It attempts to take the best aspects
of Megaball and mixes them with a few fresh ideas. A great deal
of effort went into the game's "Amiga" look-and-feel.
( 60 frames per second animation, copper bars, sine scrollers,
boing balls, dot flags, snappy game play, etc... )
This game is kid-tested and mother-approved... don't be afraid to
show this one to your non-computer buddies. :)
Game rules:
Use your paddle to keep the ball(s) in the air. Dropping all the
balls in play will cause you to lose a paddle. When all the
paddles are lost, the game is over.
Break all the bricks on the screen to gain points and continue to
the next board. Catch blue bonuses for good options, red ones
for bad options, and grey ones for mixed blessings. See the title
screen of the game for a complete table of bonuses and their
function.
Use the left mouse button to release the ball from the paddle when
in grab mode.
When the 'shooting paddle' bonus is caught, click the left mouse
button to fire bullets at the bricks.