Dragon Ball Z Ultimate Battle 7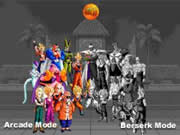 Dragon Ball Z Ultimate Battle 7
by ssJdeep6
A nice turn-based combat game
This great looking game has 2 modes:
- Arcade Mode: one fight. First you have to select one or more characters to play with, then you have to select the computer opponent.
- Berserk Mode: some sequel fights of three fighters against 1 to 3 opponents at the same time.
After winning a combat you can buy some items for healing and other things.
The battles are turn-based and luckily in english.
The graphics, music and sounds are really good.
Controls:
Arrows = select character, item, etc
Space (or Z) = confirmation
Esc (or X) = cancel, in main screen: go to file/item menu
F4 = windowed/full screen