Dragon Ball Z Tenkaichi Budokai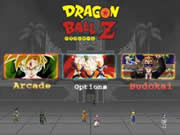 Dragon Ball Z Tenkaichi Budokai
by ssJdeep6
For the fans of turn-based combat games
This game has two modes:
1. Arcade: a battle of one fighter against 4 opponents.
2. Budokai: a competition, one against one. You can choose one of the 12 fighters.
After winning the final battle, you can buy some items for healing and other things.
The battles are turn-based and luckily in english.
The graphics, music and sounds are really good.
Controls:
Arrows = select character, item, etc
Space (or Z) = confirmation
Esc (or X) = cancel, in main screen: go to file/item menu
F4 = windowed/full screen