Dragon Ball Z Budokai X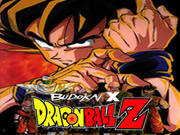 Dragon Ball Z Budokai X
Dragon Ball Budokai X and hae hours of fun.
All Dragon Ball fans will welcome this game. Although the game can seem a bit simple, it's extremely addictive, it's very easy to play but difficult to master and you'll have to beat lots of enemies because the game includes all the characters of all sages: Cell, Buu, Sayan, Freezer and Androids.
The fantastic anime that dazzled millions of fans with the books and, of course, TV series, has also a free game where you'll be able to take the role of your favorite character and give all your enemies a terrible beating using punchs and kicks, as well as the personal movements of each character. Forget all those difficult combos, use kicks and punchs and a bit of magic power to beat your enemies. Visually, Dragon Ball Z Budokai X is far good, a 2D fighting game that will hook you to the computer for hours enjoying Dragon Ball again. In short, an addictive game for all Dragon Ball fans, don't hesitate. This game, completely programmed using MUGEN, offers us 3 different game modes: Campaign mode, in which we will have to complete a series of different mission (that will vary depending on the choosen character), that will allow us to unblock new characters and settings, a Battle mode in which we will choose different characters and settings for the combat (we will be able to organize battles with up to 6 characters), and an Online mode to play against other users.
License: Free
Language: English, Spanish
OS: Win95, 98, 98SE, Me, 2000, NT, XP