Dracula: Origin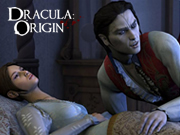 Dracula: Origin
Dracula Origin is a point-and-click adventure game.
In Dracula Origin, the player takes the role of the famous Professor Van Helsing whose life's aim is the destruction of Dracula. Van Helsing must stop the vampire from finding the manuscript. A rich adventure that takes him from London to Egypt, Austria and through Carpathian Europe right into the terrifying home of the Dark Prince.
Dracula: Origin reveals the origins of the Dracula curse - that of a man tortured by the loss of a woman he held more precious than anything, and offended because she would rather kill herself than give in to him. Slowly, the thirst for vengeance has done its work, turning the ardent defender of Christianity into a hardened servant of the Demon. Dracula begins celebrating terrifying satanic masses involving terrible atrocities. He was still alive, still human, until the day he drank his rival's blood and then made a pact, sealed for all eternity, which made him the first vampire. Once the ardent defender of Christendom, Dracula loses his faith in God when he is abandoned by his one true love after she marries. Dracula then makes a pact with the Prince of Darkness, and becomes a vampire. As time goes by, Dracula discovers the existence of a manuscript that allegedly details a rite which brings damned souls back from the beyond.
Dracula Origin is an adventure game that gives you the opportunity to take on the role of Professor Van Helsing, who is chasing down the legendary Dracula. The storyline will bring you to London, Egypt, Austria and of course Transylvania, the vampire's famous residence.
License: Demo
Language: English
OS: Windows XP, Windows Vista