Diamond Rush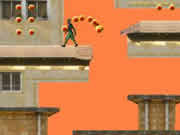 Diamond Rush
by khaim
A very unique platform game
The object in Diamond Rush is to gather all the diamonds before the clock runs out. There are 49 funfilled levels which can be played and repeated in any order. What makes this game unique is, sometimes you simultaneously control three chacters with one set of controls
The good, the bad and the ugly...
Gameplay is very good and some of the levels have up to three characters to control at the same time, which adds to the excitement.
The bad part of this game is the lack of documentation. Also, a pause button would be nice to have.
The ugly part is the choice of colors on the title screen. The text in many cases is extremely hard to read on a 17" monitor. To a lesser degree, this also occurs on some of the levels while playing the game.
Main Menu:
Arrows = move to highlight level or menu
Ctrl = start/menu
Esc = quit game
Secondary Menu:
First three lines = start game as one of three players: Timothy, Yosi or Rudra Zinan
Fourth line = turn the backgrounds on or off. This option is good if the game runs slow with backgrounds on.
Fifth line = set the resolution to either 1024x768 or 1280x1024 pixels.
Sixth line = clear only Timothy's high scores.
Seventh line = author's email address
Eigth line = quit
Controls:
Arrows left/right/down = left/right/down, select
Ctrl = jump (hold to jump higher), start
Esc = exit level
The unlock code its 'bentov'.
With three characters to move with one set of controls, and diamonds flying all over the screen, this game is sure to make you head spin.