Crimelife 3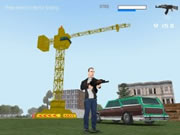 Crimelife 3
by Sakis25 games
A 3D GTA clone. Steal cars, shoot people, steal money, etc
In compare with Crimelife 2:
- 4 new weapons (grappling gun, grenades, AK-47, molotov cocktail)
- Added achievements (press G to view achievements)
- Added some special featurues with the real date events. For example try to play this game on Halloween or Christmas to see some changes ;)
- Added cops and wanted levels (only 2 wanted levels)
- Added traffic
- Added more hud stuff like: Lifebar, armor and money
- Added a safe house where you can buy stuff, save your game and change clothes.
- Fixed the target system
- Added paintjobs building (to repaint and fix your car)
- Added weather effects
- Added more vehicles (including motocross bikes, jetskis, trains and more)
- and so on.
Not a bad game, but personally I prefer the gameplay of Crimelife 2 above this one, eg. Steering the cars could be better. Nevertheless I am looking forward to the next version of this game and hope the bugs will be fixed then ;)
Controls:
- Walking:
W,A,S,D = Walk
Walk+Q = Run
Mouse = Move camera
F or Enter = Enter vehicle
1 = Change weapon
Mousewheel = Zoom
Left mouse = Fire
Right mouse = Aim
- Driving a car:
W,A,S,D = Accelerate, steer and reverse
Space = Brake
F or Enter = Enter vehicle
- Driving motorbike:
W,A,S,D = Accelerate, steer and reverse
Space = Brake
F or Enter = Enter vehicle
Down (while driving): Wheelie
(Tip: Wait a bit after entering a motorbike and you will get a helmet)
- Other controls:
Esc = Quit
G = View achievements
F1 = Help
F2 = Screenshot