Counter-Strike 2D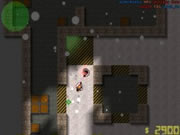 Counter-Strike 2D
by Unreal Software
A multi-player shooting game
Who doesn't know or hasn't played the famous game Counter-Strike? I bet that I will never find the answer to that question. Unreal Software has made a top-down 2D shooter of Counter-Strike for those looking for a small game to play over LAN or the internet. It's not the real thing, but it is quite fun to play this game.
The objective of the game is to defeat the other team in several missions which you choose to play in. You can either choose to save the world as a counter terrorist or if you are more of a fireworks person, you can join the notorious ranks of the terrorists. Before the game actually starts, you can buy weapons and high-tech equipment to fight the other team with. Most missions are demolition-missions, but there are plenty of missions were hostages need to be escorted or where a VIP needs to be assassinated/protected.
The fun thing about this game is that all the maps, player models and (nearly) all the guns are included in the game together with those familiar sounds we all love. To top it off, the makers have included some of their own brilliant made maps in the game for us to shoot in. If you don't have any friends and the bots are too easy for you, why don't you test your skills on the internet. There are plenty of servers on the internet and there are enough players for you to turn into cannon fodder.
The game is not so special, but it offers quite a bit of entertainment when organizing a LAN-party and that makes it worth the download.