Centipede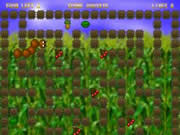 Centipede
by IfThen Software
A nice and challenging snake game + map editor
Centipede is a classic snake game in which you eat all the fruit and grow longer with each fruit eaten but don't touch anything else and that includes your body also!. It also has puzzle some puzzles aspects to it. As an example, you will quickly discover in this game that you can get into a room to eat fruit just fine but you may be so long that you won't be able to get back out. You MUST eat the fruit in a certain order to safely get back out! The games comes with 14 maps of varrying complexity and an easy to use editor to make many many more. There are three levels of dificulty: easy, normal and hard. There difference in these is the speed at which you crawl. There is no music in the game, but it does have cool sound/video effects especially when you die.
Controls: In Game
Mouse = Menu Selections
Arrow Keys = Movement (Up/Down/Left/Right)
Esc = Exit to Windows
Controls: Map Editor
With Mouse over object in top left of corner screen or
With Mouse over level
Left/Right Mouse Buttons = Cycle through objects/levels
Left Mouse Button = Place Object
Point and Click = Load/Save (may not see visual indication)
Esc = Exit to Windows
This was an entry for The Game Creators - 2004 Game Programming Competition
For all you snake fans out there, will this very good snake game be what you are looking for?