Cave Chaos 2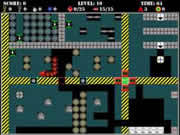 Cave Chaos 2
by Simon Moore aka Spam&Cheese
A nice Boulderdash puzzle game.
In in comparison with Cave Chaos 1:
* Over 36 new sprites including teleporters, control switches, different kinds of rocks/jewels and more.
* 120 levels from Easy to Insane. The original 90 levels are also included, making 210 levels, not including multiplayer and extra downloads.
* 1, 2, 3 or 4 player support.
* Redesigned engine for bug eradication and faster performance.
* More level graphics and now includes sound effects.
Min.Req: 350MHz and a 8MB graphics card