Bubble Puzzle 97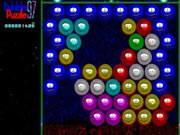 Bubble Puzzle 97
by Oliver Pape
Connect 3 or more bubbles of same color
Bubble Puzzle 97 is by far the best of this type of game which I have seen. You aim your (sometimes) moving cannon to shot at bubbles which are the same color. When you hit and connect 3 or more bubbles, these bubbles and any underneath fall off the screen. You preceed to the next level when there are no more bubbles remaining.
The game has several good features:
For people who cannot see color there is the color blind mode.
Save profiles, so that you can continue at your most recently played level.
Support for game pad.
There has been a level editor developed which I have been unable to locate. But the .ini files in the Level directory can easily be modified to create you own levels.
On my P1 75 Mhz, Win95 this game played without a hitch, But on Windows 98 with DirectX 9 I had to adjust the System Propperties/Performance Tab/Graphics to get the game to play properly. There is also a configuation program to set language and a few other options.
Game Controls:
Left and Right Arrows or Mouse Aim.
Control or Left Mouse button Fire.
P pauses the game.
Esc quits