Bridge Builder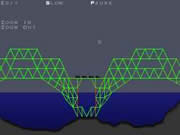 Bridge Builder
by Alex Austin (now at Chronic Logic)
Puzzle game to Build bridges for trains
In this game you have to build brige arround water reservoirs. Bridge have to be strong enough, because it also has to pass test. After building bridge train must go over it. In every level you have a limited budget to build your brige.
There are 15 levels. (more unlocked after beating the first 7 levels)
Controls
Game is controlled by mouse only.
Left mouse button = build detail
Right mouse button = destroy detail