Bollen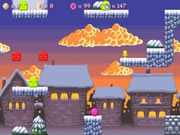 Bollen
by Monokey
An extremely hard platformer with a rolling ball
Very nice graphics and very finished game (great music, menus, etc..), but in my opinion it's too hard to be very enjoyable.
The goal of Bollen (means 'the ball' in Swedish) is to control a purple ball and to move it from one side of a stage to a red flag. The difficulty is increased for each stage and it takes a lot of skill and practice to beat all 23 of them. If you manage to do it you will also get to play the hidden bonus-stages with ridicilous difficulty.
Game Modes:
* PLAY
You can start frm the beginning or from a world you've unlocked.
* TRAINING/DEMO RECORD
You can pick any stage you like and try to clear it. You will have 25 tries on each stage before it's game over. You can also record a demo while you play and share it with others. More on this later.
* REPLAY DEMO
Watch a recording you made. More on this later.
Controls: keyboard or gamepad
Arrow keys = Move
Enter + arrows = Camera
Space = Pause
F2 = Record demo (in trainingsmode)
F1-F4 = Replay demo
Esc = Back to menu