Barbarian Returns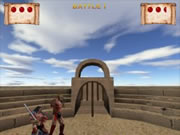 Barbarian Returns
by Basilisk - DGDev Team
Modern remake of a fighting game
Barbarian Returns is a modern remake of the classic fighting game called "Barbarian", or "Death Sword", published in 1987 by Palace Software.
Barbarian Returns is a fighting game, where you must defeat the seven best fighters of Drax, before fighting Drax himself.
The game can be played in one or two player mode, or over a netwerk.
controls: keyboard and/or joystick, can be assigned in menu option.
default: left Ctrl + arrows