Antz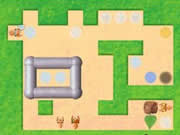 Antz
by Karel Stepka
A unique sokoban clone with ants
This is a unique sokoban clone. The main heroes are four brave ants.
Each ant has different abilities.
Tink: He can drag both objects and drops.
Princess Florianette von Grunrasen: She can push objects and drops.
Lt-Col Benedict: He can only move drops and nothing else. However, he can both push and pull them.
Willi: He can push objects. However, he will not touch any drop.
Most of the time you will play with Tink.
Sokoban is a puzzle game whereby you control a warehouseman who has to push the crates on their right places.
Controls:
Arrow keys = movement
Space+arrow = pull object
Tab or mouse click on the ant = switch between the ants
F1 = help on/off
F2 / F3 = save / load game
F4 = another music track
F5 / F6 = change sound volume
F7 / F8 = change music volume
F9 = restart level
F10 = switch language between English / Czech
F11 = watch the solution (only if the level already is solved)
F12 = hide / unhide the game
note: If you have problems with the graphics on a Geforce 2 video card, please update your drivers.
ANTZ is a difficult game and some rooms are very difficult. However all rooms are solvable.