Ancient War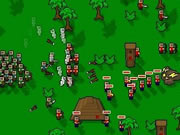 Ancient War
by Benjamin Anderson (Excalibur333)
A simple but very enjoyable RTS game + level editor
A simple but very enjoyable RTS (Real Time Strategy) game + level editor
Chop wood and gold, build towers and create an army of sword fighters, archers and magicians. Upgrade them, protect your town and when you are strong enough then fight the enemy and destroy his town.
Quick Battle
There is only one level in Quick Battle, but luckily you can also play your own created levels. Before starting quick battle you can select a difficulty level (from 1 to 10). The AI is good, but for real RTS gamers even difficulty level 10 is too easy.
Bug: When you loose you will get a highscore, but when you win not!
Survival Mode
The playfield is one screen (not scrollable) and the only thing you have to do is creating a strong army and protect your town. The enemies coming from all sides! Try to survive the waves.
Good game, but also too easy for real RTS gamers.
Bug: Sometimes the game crashed after a few hours, because it wanted to execute a file. A missing file. Maybe it's on my computer only or maybe there is really missing something. I have no idea. I hope the author will help us out with that problem.
Level editor
A very easy-to-use and well made editor, but there are much too less options. So the result will be very similar to the default level of Quick Battle.
A very well-made game. I played the game for a few hours and I really enjoyed it.
Controls:
Left mouse = Select
Right mouse = Move to
F4 = Full screen / windowed
Esc = Pause (+ option Exit/Continue)