Alien Shooter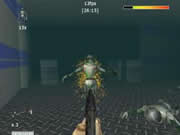 Alien Shooter
by Thomas Schneider
Just a nice 3D FPS, nothing more or less.
Just a nice 3D FPS, nothing more, nothing less
There is no story line and your only task is "Shoot those damned aliens."
There are 2 levels. In the first one you have to search and kill 25 aliens in some dark rooms. The second level has the same scenario, except there are 40 aliens this time. You can find some munition and medi-pacs, and that's it.
Very nice graphics, but very dark ones.
The game has three difficulty modes (easy, medium, hard). In the easy mode the aliens can kill you, but they haven't any weapons. In the medium mode, some have weapons. In the hard mode, all the aliens are armed.
The resolution is adjustable from 640x400 to 1600x1200 colors from 16 to 32 bits
controls:
arrows or W,A,S,D or Right mouse = move
Left mouse or Ctrl = shoot
R = reload weapon
Enter = open doors
PgUp = select weapon (you got 2 kind of weapons)
Esc = exit game