Air Strike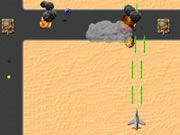 Air Strike
by VectorGames
Air Strike all the incoming Enemies
Authors Description :
The play air Strike is to remind of the old computer times. In this vertical Scroller it goes around it, a fighter plane for the USA over four different combat scenes steering to ever three level. In each level you meet a new type of opponent and each mission end with their own Boss Camp. Few ofthese tasks are available various Upgrades and Items. Beside the on-board mg, as well as four additional secondary weapon types, the player can receive orbiters and much over shields, expression-casually. In addition there is still another Shop, where one acquires lost weapons again can . A becomes three degrees of difficulty, as well as a Tutorial offered, in order to learn the controlling fighter plane easily.
Air Strike is a fun to play shooter with alright graphics sound and very retro gameplay. You take control of a fighter plane and your mission is to take out the masses of enemy forces that are in the air or on the ground. Loads of extra weapons pick-ups to help destroy tanks, aircraft and the bosses. It's not large game but still worth a download as it does play well.
Controls :
F : Fire machine gun.
G : Fire secondary weapon.
H : Change weapon.
D : Drop big bombs.
Space : Pause game.
F5 : Save.
F6 : Load