5 Magical Amulets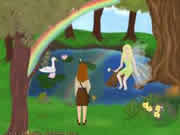 5 Magical Amulets
by OFF studio
Awesome adventure game
5 Magical amulets is without doubts one of greatest adventure games I ever played.
In this game you will take the role of Linda. Your mission is to save the world from the evil Wizard Zarkyran. To do it, you need to collect the 5 amulets.
The game is divided in 4 chapters. In every chapter the difficulty will increase.
This game also has a well written story line. It is like reading a fairy-tale.
Controls:
Mouse
press on trace to travel in next screen
ESC = show menu