3D TicTacToe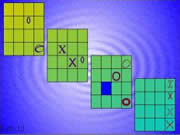 3D TicTacToe
by Ossie Manners
A 3D Tic-Tac-Toe game
3D TicTacToe adds a whole new dimension to the classic game of Tic-Tac-Toe. The object of this game is to get 3 Xs (or Os) in a row in any of three dimensions before your computer opponent does, which is easier said than done. Because of its many options, this is not just another Tic-Tac-Toe game turned into 3D. Your computer opponents (Harry, Jack, Ray and Craig) have different skill levels with Craig being the most skillful player. If these 4 players are not enough you can also change the search depth and evaluation options for each one of them amking the game even more dificult. You have many different views so that you can visualize the 3D game better in the 2D playing field. If you do not cheat, the game keeps a running total on the number of wins/losses. It can also save your current game in progress.
The game only runs in a window but it is more of a desktop type of game anyway. Aside from the two sound effects (one for a win and the other for a loss) the game is quiet so you can turn on your own MP3 player. If you do not want to play, then you can just watch the computer play itsself.
Controls:
Mouse = Point and Click
F1 = Help/Cheats
This is a very challenging game of Tic-Tac-Toe with many options. I could not beat the game without cheating... Can you?