3D Monster Maze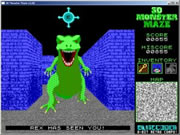 3D Monster Maze
by Demon Star and Myke-P
A retro maze game with a T.Rex
The object of the game is simple. Find the exit gate and go through it.
Unfortunately, there are a couple of things that'll make that particular objective a bit more difficult, namely:
1. The exit gate is locked.
2. A 20 foot prehistoric lizard, called Rex, that can smell your fear!
So, before you can escape, you'll need to find the key, while avoiding Rex.
controls: arrows