10 Finger BreakOut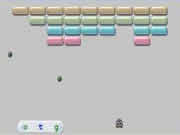 10 Finger BreakOut
by Aleksandar Gilezan Giletech e.K.
Educational: typing tutor breakout (Eng)
controls: QWERTY keyboard
New version (3 September 2005):
With this touch typing tutor game you will learn to type and improve your typing skills. 10 Finger BreakOut is a REAL arcade game, in which you are escaping from invaders, shooting and trying to hit balls. This is no fake - you are playing BreakOut ! (You are not just typing characters). With this game you WILL have fun, but don`t worry, by playing 10 Finger BreakOut you sure will be learning to type.