Tarzan Games Free Download

Big collection of free full version games for computer and PC. All listed games are absolutely free games for free download.

Tarzan Games Free Download and play for free.

Free games for kids, girls and boys.

Tarzan-Guardian Of Earth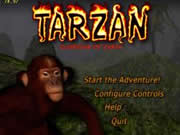 Tarzan-Guardian Of Earth
by Seth A. Robinson
A 3D minigame-Pee on all the fires
Have you ever had to pee so badly that you thought you could put out a fire. Well, In this game you do just that!
In Tarzan: Guardian Of Earth, You have a quick two minutes to put out numerous lightning fires. You do this by peeing on them. When your bladder runs dry, you must find cans of Pepsi and pitchers of CoolAid to drink and then continue to put out even more fires in the same manner. In this game there are no zippers to unzip or buttons to undo because you are stark naked. But, Don't go looking for Janel because she isn't here. Just a silly little monkey called Cheetah is your only companion.
If you are not very good at urinating all over trees, then the readme file has some helpful tips for you. The four difficulty levels include: Normal, Hard, Insane and Burn Baby Burn. The music is very pleasant and the sound/video effects are just what you would hear/see during a real thunderstorm.
CONTROLS:
W/S = Forward/Backwards
A/D = Strafe left/right
Space = Jump
Arrow Keys Left/Right = Turn
Arrow Keys Up/Down = Move Forward/Backward
Mouse Left/Right = Turn
Mouse Forward/Backward = Camera Raise/Lower (in third person view)
Left Mouse Button = Pee (hold on to it)
Right Control = Pee (hold on to it)
Tab = Toggle between four views (one is 1st person, three are 3rd person)
F2 = Change Screen Resolution
Alt-Enter = Toggle Windowed Mode
F1 = Help
Esc = Quit/key Setup/Help Menu
Esc and F1 keys also pause the game.
Pee on all the fires that you can, but don't piss on the monkey!