IL-2 Sturmovik Games Free Download

Big collection of free full version games for computer and PC. All listed games are absolutely free games for free download.

IL-2 Sturmovik Games Free Download and play for free.

Free games for kids, girls and boys.

IL-2 Sturmovik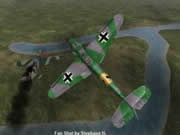 IL-2 Sturmovik
IL-2 Sturmovik Forgotten Battles introduces a dynamic campaign.
Version 2.0 of IL-2 Sturmovik! Fly the skies, fighting for Mother Russia in the IL-2 "Sturmovik" ground attack aircraft, up against the German invasion. This new demo includes some nice additions that you can read about in the additional information section.
IL-2 Sturmovik gives players the experience of intense aerial combat over Germany and Russia during WWII, challenging them to pilot realistic period aircraft modeled with pinpoint precision. Soaring through deadly realistic 3D landscapes, pilots can engage in numerous action-packed single-play missions involving air-to-air, air-to-ground, search & destroy and escort missions. In addition, IL-2 allows 32 human opponents to join multiplayer missions online or via LAN to engage in what GameSpot promises "could turn out to be the best-looking World War II flight sim to date. The dynamic campaigns are automatically generated, and the player can select his or her nation, squadron, and aircraft to fly. Players can also decide when they want to join the war. After the completion of each mission, the results will be processed and another mission will automatically be generated - and so on, until the end of war. Results of one mission will carry on to the next and no two missions will be the same. During the campaigns, forces will advance or retreat, based on the history of the battles. However, frontline movements can speed up or slow down in limited degree. Additionally, resource tracking is present and objects destroyed in one mission will stay destroyed in the next. Every destroyed plane, friendly or hostile, reduces the number of planes of this type in the theatre, making their appearance less likely. Destroyed trains and transport columns will affect supply rate. If an ace is killed or captured, he will not appear in future battles.
License: Demo
Language: English
OS: Win95, 98, 98SE, Me, 2000, NT