Gold Miner Vegas Games Free Download

Big collection of free full version games for computer and PC. All listed games are absolutely free games for free download.

Gold Miner Vegas Games Free Download and play for free.

Free games for kids, girls and boys.

Gold Miner Vegas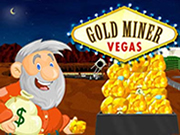 Gold Miner Vegas
Gold Miner wants to go to Vegas to strike it rich. Before he can leave Australia, he needs to mine up some gambling money.
The gold miner is trying his luck in Vegas. Try to dig up as many gold possible by aiming ans shooting with his little hook. Be carefull not to dig up stones, it will cost you points and time. Play this funny online flash game to find out how lucky you are.
The Gold Miner is taking his dream to the modern-day mother lode. Can you get your bearded friend all the way to golden streets of Las Vegas? With all-new new levels, challenges and gold-grabbing gadgets, the action is bigger, brighter and more enjoyable than ever before. Family-friendly 'Gold Miner Vegas' sparkles with the type of fun you don't have to leave in Vegas.
Features:
* Play in two-player mode! Can you out-mine a friend?
* Horizontal movement added for greater interactivity
* Follow the adventure from beginning to end or replay your favorite levels in Gold Rush Mode
* Sharp new animation takes you from the mines of Australia to the beaches of Hawaii
* Enjoy a richly-developed storyline for hours of repeat play
* Mine the land and sea with sharp new animation
* New characters, new action sequences and lots of mischievous new creatures
* Tons of mystery grab bags full of fun and gadgets
* How much gold can you grab with the new Super Claw?
* Horizontal movement added to create strategic angles
License: Demo
Language: English
OS: Windows 95, Windows 98, Windows 98 SE, Windows ME, Windows 2000, Windows NT, Windows XP, Windows 2003, Windows Vista