FIFA 08 Games Free Download

Big collection of free full version games for computer and PC. All listed games are absolutely free games for free download.

FIFA 08 Games Free Download and play for free.

Free games for kids, girls and boys.

FIFA 08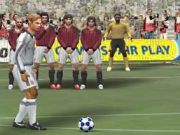 FIFA 08
Get closer to the action than ever before by mastering the skills required to play like a real professional football player in FIFA 08.
FIFA 08's gameplay is more fluid than ever and thanks to some tweaks to the shooting mechanism, defending pressure, player attributes and even the influence of air pressure, it's now a very realistic simulation of the beautiful game. The graphics are smooth, detailed and well animated and the commentary and crowd effects make it seem just like you're watching it on telly. Always having the benefit of licensing on its side, FIFA 08 has a staggering 620 teams from 30 leagues, and a total of more than 1,500 real players at your disposal.
License: Demo
Language: English
Developer: Electronic Arts
OS: Win2000/XP/Vista