Bridge Games Free Download

Big collection of free full version games for computer and PC. All listed games are absolutely free games for free download.

Bridge Games Free Download and play for free.

Free games for kids, girls and boys.

Bridge Builder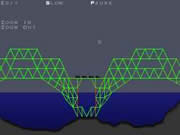 Bridge Builder
by Alex Austin (now at Chronic Logic)
Puzzle game to Build bridges for trains
In this game you have to build brige arround water reservoirs. Bridge have to be strong enough, because it also has to pass test. After building bridge train must go over it. In every level you have a limited budget to build your brige.
There are 15 levels. (more unlocked after beating the first 7 levels)
Controls
Game is controlled by mouse only.
Left mouse button = build detail
Right mouse button = destroy detail
Bridging the Gap
Bridging the Gap
by Mark Leppen and Erik Leppen
Build the best Bridge you can
Authors Description :
In this unique game you have to build a bridge to safely get a train from left to right within a limited budget. Levels start off small, but gradually, levels get bigger and bigger and trains get longer, faster and heavier. Don't waste your money, because all the cash you left is added to your score. Can you bridge the gap?
I expect when you first looked at the Genre for this game and you saw Educational your first thoughts were well not for me then. Well if you thought that then you would of missed out on a very good kind of Educational game, ok you do have to think and you will also learn from playing this game but it is still very good fun to play.
Bridging the Gap has good graphics and excellent gameplay but does lack in sound but that's ok as the rest of the game makes up for this.
You need to build a bridge across a ravine strong enough to take the weight of a train, the ravines get wilder the trains get bigger, faster and the better you have to build your bridges all in the budget of your money, even if you build a successful bridge and your train passes over safely you can always have another go to improve your bridge building skills also the higher the level the better bridges you will need to create. I even found it fun to build a badly designed bridge to watch the train crash.
You only use the mouse to control your bridge building and it's very easy to use, i think people of all ages will find this easy to do.
To Play :
Place your Joints on the wire frame background where you want the members /(girders) to join, to build your bridge you can add as many joints as you like as they are free it's the members that cost money if you make a mistake use the rubber to remove, start your train in motion to see if your bridge looks stable, if not halt the train and make some changes. This game is great fun to play.
Yoshi Bridge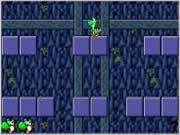 Yoshi Bridge
by Yoshiguy
Help the Yoshies by building bridges
In this game the Yoshies are walking over the screen, but there are holes in the way. Your task is to help the Yoshies by buiding bridges. You can do that by pressing the correct key (see controls). The bridge will only exist as long as you press the key, when you release the key, the bridge will dissapear. You cannot create more than one bridge at the same time.
Just as in a Lemmings game, the Yoshies don't ever stop walking, so be quick!
But there are baseball bandits who also want to cross to mug the Yoshies, so don't let those bad guys cross the bridge!
This game also features a day and night time setting as well as two secret things. The night time setting can be very hard to play if the brightness of your monitor is set too dark.
The game has three worlds, where you can choose from:
The "Desert" with three holes.
The "Underground" with 4 holes and darker graphics.
The "Sky" also with 4 holes.
You can choose between one of the 5 sounds played in the game, or you can play in silence if you wish. The sounds are not bad at all, but after a while I prefer to play this fun game in silence.
Controls:
Shift
= build the upper bridge. (or left upper bridge in some levels)
Control
= build the left lower bridge.
Up arrow
= build the right upper bridge.
Down arrow
= build the right lower bridge